Items ID : 339943
Philips AS851/37 Fidelio Docking Speaker for Android
speaker sound system
In-Stock.
USD 211.81

| | |
| --- | --- |
| Qty | Price Each |
| 1 | USD 211.81 |
BRIEF SUMMARY
Bluetooth wireless music streaming from Android device
Smartly designed FlexiDock to fit and charge Android phone
Optimal acoustic volume to match speakers requirements
Charge your second mobile device via USB
Songbird to discover, play, sync music between PC&Android
Fidelio Docking Speaker for Android
Description:
The Philips Fidelio docking speaker for Android works with your Android device to deliver powerful, robust room-filling sound on 30 watts of total output power. With free, easy-to-use apps, you can sync music libraries between phone and PC or listen to thousands of Internet radio stations. Dock your Android phone to play and listen, and connect a second device for charging via USB.
Digital Sound Processing for Clear, Beautiful Sound -  This Philips Fidelio docking speaker for Android boasts two built-in speakers that produce strong, robust room-filling audio. The precisely tuned bass pipes produce deep, tight bass reproduction. Digital Sound Processing facilitates distortion-less music, and optimal acoustic volume matches the speakers' requirements
Attractive, Modern Design Looks Good Anywhere  -  With its curved back and clean lines, this docking speaker has a modern aesthetic look. The all-black finish and fine tuned back-firing bass pipes combine sleek look with high-end performance.
Multiple Connection Options for Versatility and Power   -   Despite its streamlined appearance, this docking speaker boasts a variety of compatibility capabilities. A 3.5-millimeter auxiliary input allows you to connect nearly any electronic device.This speaker system allows you the convenient option of physically docking your Android phone for charging and music playback by connecting via Bluetooth.
Expand Functionality with Free Fidelio App  -  Download the free Fidelio app onto your Android device to listen to over 7,000 Internet radio stations, browse your music library, and share media with friends via Facebook and Flickr. The app includes the Songbird music function, which helps you discover, listen to, and sync music.
Straightforward Design and Operation  -  The speaker is designed for exceptional ease of use. The FlexiDock fits most Android devices and enables a quick, secure fit and charges your phone during use, as well as giving you the option to dock vertically or horizontally. The speaker recognizes the phone's software automatically upon connecting. You can also use the speaker to dispense crisp, powerful gaming sound by syncing your portable device via Bluetooth. The dock comes with a remote control.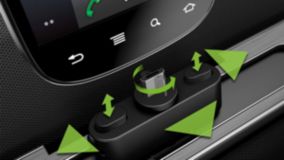 Smartly designed FlexiDock to fit and charge Android phone
The Philips FlexiDock is perfect for Android phones. Its unique design cleverly docks most of the Android phones - whether the phone's connection socket is at the bottom, on the side or even on the top. This extreme flexibility is the first of its kind, catering to Android phones that are made by different manufacturers with no standardized position and orientation for the micro USB connection socket. The dock also brilliantly adjustable to hold the phone in both portrait and landscape positions, letting you position your Android phone at the centre of the speaker.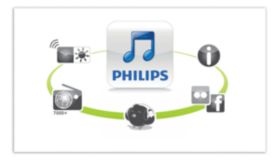 Discover, share music & more features via DockStudio app
The free Philips DockStudio app brings a myriad of unique features to your docking speakers. You can listen to thousands of Internet radio stations worldwide, browse through your music collection and share what you are listening to with friends via Facebook, or photos of the artist on Flickr. The app comes with Songbird music function, so you can discover, play and sync media seamlessly between PC and Android devices. In Clock mode, the app lets you set multiple customized music alarms and gives updated weather reports. Completely free, the app can be downloaded from the Android Market.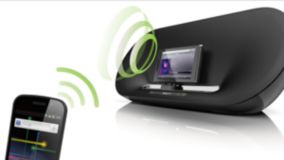 Bluetooth wireless music streaming from Android device
Listen to all your favorite songs on a speaker that delivers fabulous sound. This Fidelio docking speaker plays music from your Android devices via Bluetooth. Simply download the free Philips Fidelio app and the Bluetooth will automatically be turned on and connect once when your device is docked. You get to enjoy powerful and outstanding sound, with unbeatable convenience. Hardly anything else sounds as good.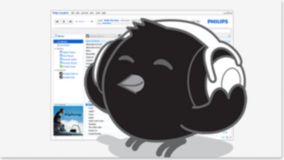 Songbird to discover, play, sync music between PC & Android
Songbird is a simple, easy-to-use PC program and Android app. It lets you discover and play all your media, and sync it seamlessly with your PC. Its intuitive and powerful music management features let you discover new artists and music styles directly in the program through music and media stores, services and websites. Play your own library and media from the Internet and seamlessly sync all of it from your PC to your Android devices.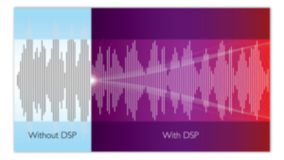 Digital Sound Processing for lifelike, distortion-less music
Advanced sound processing technology enhances the reproduction of your music so that each note resonates with crystal-clear accuracy, and each pause is sealed with pristine silence. Philips' proprietary Digital Sound Processing technology optimizes the performance of compact speaker boxes, delivering sound that is clear, detailed and powerful without any distortion.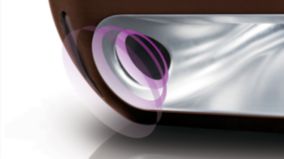 Precisely tuned bass pipes for deep, tight bass reproduction
The generous 3L acoustic volume allocated to each woofer is perfectly aligned with precisely tuned back-firing bass pipes to deliver truly impressive and tight bass performance from such a compact speaker. The result - exceptional realism and immersive listening experience.



Sensually curved back for elegance and precise sound
The clean lines and sensuality of the curved back cover not only looks fabulous – it also creates a more effective structure for acoustics. Carefully designed, the curve increases the stiffness of the speaker cabinet, dramatically reducing internal resonance and resulting in more precise and natural sound reproduction. You get to enjoy both lovely looking speakers and sensational sound.



Optimal acoustic volume to match speakers' requirements
Smart sound design brings you the best bass reproduction possible. The acoustic volume allocated to each midrange driver perfectly matches its acoustic requirements. Low tones come out deep and tight – delivering strong and rich bass.




This product not reviewed yet
This item will be shipped from United States
Estimated Shipping weight: 3.63 Kg
This item can be shipped to ALL destinations around the world.
Processed within 4 - 7 working days after confirmation of payment
Tracking no will be emailed to you once we have shipped your order
This item will ship to these countries:
Ship to Afghanistan
Ship to Albania
Ship to Algeria
Ship to American Samoa
Ship to Andorra
Ship to Angola
Ship to Anguilla
Ship to Antigua and Barbuda
Ship to Argentina
Ship to Armenia
Ship to Aruba
Ship to Australia
Ship to Austria
Ship to Azerbaijian
Ship to Bahamas
Ship to Bahrain
Ship to Bangladesh
Ship to Barbados
Ship to Barbuda
Ship to Belarus
Ship to Belgium
Ship to Belize
Ship to Benin
Ship to Bermuda
Ship to Bhutan
Ship to Bolivia
Ship to Bonaire
Ship to Bosnia Herzegovina
Ship to Botswana
Ship to Brazil
Ship to Brunei Darussalam
Ship to Bulgaria
Ship to Burkina Faso
Ship to Burma
Ship to Burundi
Ship to Cambodia
Ship to Cameroon
Ship to Canada
Ship to Canary Islands
Ship to Cape Verde
Ship to Caroline Islands
Ship to Cayman Islands
Ship to Central African Rep.
Ship to Chad
Ship to Channel Islands
Ship to Chile
Ship to China
Ship to Christmas Island
Ship to Chuuk Island
Ship to Cocos Islands
Ship to Colombia
Ship to Comoros Islands
Ship to Congo
Ship to Congo Democratic Rep.
Ship to Cook Islands
Ship to Costa Rica
Ship to Croatia
Ship to Cuba
Ship to Curacao
Ship to Cyprus
Ship to Czech Republic
Ship to Denmark
Ship to Djibouti
Ship to Dominica
Ship to Dominican Rep.
Ship to East Timor
Ship to Ebeye Island
Ship to Ecuador
Ship to Egypt
Ship to El Salvador
Ship to Equatorial Guinea
Ship to Eritrea
Ship to Estonia
Ship to Ethiopia
Ship to Falkland islands
Ship to Faroe Islands
Ship to Fiji
Ship to Finland
Ship to France
Ship to French Guiana
Ship to French Polynesia
Ship to Gabon
Ship to Gambia
Ship to Georgia
Ship to Georgia Tbilisi
Ship to Germany
Ship to Ghana
Ship to Gibraltar
Ship to Greece
Ship to Greenland
Ship to Grenada

Ship to Guadeloupe
Ship to Guam
Ship to Guatemala
Ship to Guernsey
Ship to Guinea
Ship to Guinea Bissau
Ship to Guyana
Ship to Haiti
Ship to Honduras
Ship to Hong Kong
Ship to Hungary
Ship to Iceland
Ship to India
Ship to Indonesia
Ship to Iran
Ship to Iraq
Ship to Ireland
Ship to Isle of Man
Ship to Israel
Ship to Italy
Ship to Ivory coast
Ship to Jamaica
Ship to Japan
Ship to Jersey
Ship to Jordan
Ship to Kazakhstan
Ship to Kenya
Ship to Kiribati
Ship to Korea North
Ship to Korea South
Ship to Koror Island
Ship to Kosovo
Ship to Kosrae Island
Ship to Kuwait
Ship to Kyrgyzstan
Ship to Laos
Ship to Latvia
Ship to Lebanon
Ship to Lesotho
Ship to Liberia
Ship to Libya
Ship to Liechtenstein
Ship to Lithuania
Ship to Lord Howe Island
Ship to Luxembourg
Ship to Macau
Ship to Macedonia
Ship to Madagascar
Ship to Majuro Island
Ship to Malawi
Ship to Malaysia
Ship to Maldives
Ship to Mali
Ship to Malta
Ship to Manua Island
Ship to Marshall Islands
Ship to Martinique
Ship to Mauritania
Ship to Mauritius
Ship to Mayotte
Ship to Mexico
Ship to Micronesia
Ship to Moldova
Ship to Monaco
Ship to Mongolia
Ship to Montenegro
Ship to Montserrat
Ship to Morocco
Ship to Mozambique
Ship to Myanmar
Ship to Namibia
Ship to Nauru
Ship to Nepal
Ship to Netherlands
Ship to Netherlands Antilles
Ship to Nevis
Ship to New Caledonia
Ship to New Zealand
Ship to Nicaragua
Ship to Niger
Ship to Nigeria
Ship to Niue
Ship to Norfolk Islands
Ship to Northern Ireland
Ship to Northern Marianas
Ship to Norway
Ship to Oman
Ship to Pakistan
Ship to Palau
Ship to Palestine
Ship to Panama

Ship to Papua New Guinea
Ship to Paraguay
Ship to Peru
Ship to Philippines
Ship to Pohnpei Island
Ship to Poland
Ship to Portugal
Ship to Puerto Rico
Ship to Qatar
Ship to Reunion
Ship to Romania
Ship to Rota Island
Ship to Russian Federation
Ship to Rwanda
Ship to Saba
Ship to Saipan
Ship to Samoa
Ship to San Marino
Ship to Sao-tome and Principe
Ship to Saudi Arabia
Ship to Scotland
Ship to Senegal
Ship to Serbia & Montenegro
Ship to Seychelles
Ship to Sierra Leone
Ship to Singapore
Ship to Slovakia
Ship to Slovenia
Ship to Solomon Islands
Ship to Somalia
Ship to Somaliland
Ship to South Africa
Ship to Spain
Ship to Sri Lanka
Ship to St Kitts and Nevis
Ship to St Lucia
Ship to St Vincent
Ship to St. Barthelemy
Ship to St. Eustatius
Ship to St. Helena Island
Ship to St. Kitts and Nervis
Ship to St. Lucia
Ship to St. Maarten
Ship to St. Martin
Ship to St. Vincent
Ship to St.Eustatius
Ship to St.Maarten
Ship to Sudan
Ship to Suriname
Ship to Swaziland
Ship to Sweden
Ship to Switzerland
Ship to Syria
Ship to Tahiti
Ship to Taiwan
Ship to Tajikistan
Ship to Tanzania
Ship to Thailand
Ship to Tinian Island
Ship to Togo
Ship to Tonga
Ship to Trinidad & Tobago
Ship to Tunisia
Ship to Turkey
Ship to Turkmenistan
Ship to Turks and Caicos Islands
Ship to Tutuila Island
Ship to Tuvalu
Ship to Uganda
Ship to Ukraine
Ship to Ulster
Ship to United Arab Emirates
Ship to United Kingdom
Ship to United States
Ship to Uruguay
Ship to Uzbekistan
Ship to Vanuatu
Ship to Vatican City
Ship to Venezuela
Ship to Vietnam
Ship to Virgin Islands British
Ship to Virgin Islands U.S.
Ship to Wales
Ship to Wallis and Futuna
Ship to Western Samoa
Ship to Yap Island
Ship to Yemen
Ship to Yugoslavia
Ship to Zambia
Ship to Zimbabwe
Write a Review: (**Product Review only)